49 Views
March 30th, 2021 12:00 AM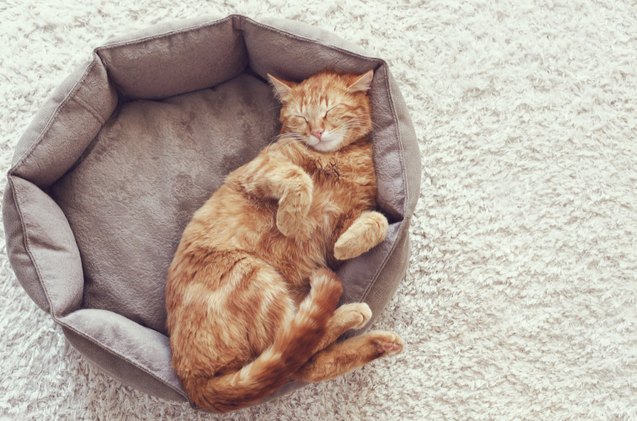 We've narrowed down the choices to the best cat beds the market has to offer- each with its specific advantages. The only thing you have to do is go through the list and settle on one!
Cats are professional nappers. I mean, they don't call it the catnap for nothing. On average, felines spend a whopping two-thirds of their lives sleeping, and they are only outmatched by bats and possums when it comes to their snoozing habits. Of course, they are not sleeping as logs the whole time- as predators, they always have one eye open and doze lightly for most of that time. However, the lying position is definitely how kitties spend the majority of their time and it will have an effect on their bodies. Naturally, it's easy to see why choosing a proper cat bed would be extremely important. Your pet might spend 12 to 16 hours a day sleeping and it would be best if all that napping was done in a comfy bed that supports their bodies the right way.
Needless to say, though, there are literally hundreds of different cat beds out there. Plush, soft ones, elevated, cuddlers, hammocks, cat caves, etc- what are actually the best cat beds? Well, as it usually is with felines, the answer is not quite straightforward. I don't have to tell you that cats are picky creatures. I can't recall how many toys or beds my cats never touched even though I thought they'll be a hit for sure. Every cat owner knows that devastating moment when you spend big $$$ on a fancy new bed for your pampered pet and they just go and sit in the box it came in instead. It ain't easy living with a cat, peeps. So, while there are never any guarantees that your cat will like whatever you end up buying, you can increase your chances by thinking through your decision. Where does your cat usually sleep? Does he or she prefer to sleep on an elevated location in the house? Or is their favorite spot for napping somewhere secluded and hidden from everyone? If you notice your pet is often asleep in the same position, it can also play an important role. Cats who tend to curl up in a circle will be more interested in snug beds, whereas those that like to sleep on their side with limbs stretched out will need a more spacious bunk.
Then, there's the question of design, materials, and style. High-quality materials are a must if you want a bed that will last more than a couple of months. Also, it's best to decide on a color that's somewhat close to the color of your pet's fur- at least in terms of dark and light. You don't want the loose hair to be that visible if it's avoidable. Finally, the design of the cat bed should be something that won't be an ugly sore in your apartment- fortunately enough, there are plenty of styles to choose from nowadays.
Luckily, you won't have to do all that searching on your own. We've narrowed down the choices to the best cat beds the market has to offer- each with its specific advantages. The only thing you have to do is go through the list and settle on one (or more!) you think your finicky feline would enjoy. You can't go wrong with any of them, when it comes to value and quality, it's just important to pick one that suits your kitty's preferences. So, without further ado, here are the 10 best cat beds you can get for your pampered pet- enjoy taking your pick!
Editor's Choice: Best Friends by Sheri OrthoComfort Deep Dish Cuddler
Touted as a pet bed that provides "the ultimate snuggling experience", OrthoComfort Deep Dish Cuddler is hard not to like. The soft sherpa lining will keep your kitty cozy and warm, and the high and comfy filled walls of the bed give plenty of room for various sleeping positions. Another great thing about this cuddler cat bed is that it can be "modified" to something similar envelope bed or a cat cave if your feline friend prefers a more snug sleeping experience. There are also 16 different colors and 3 different styles to choose from, so everyone can find something to their taste.
Runner Up: Midwest Curious Cat Cube
Suitable for one or two cats, this cube cat house with a bed is multifunctional and versatile. The removable top of the cube condo is actually the bed- cushioned bed topper with stuffed bolsters will give any kitty a comfy spot for napping. The interior also has bedding and it's great for cats who like a secluded place to sleep in. And, when they're not sleeping, your cats will love to hang out in the curious cat cube, as it also boasts hanging plush toys and tantalizing peekaboo holes on the sides, making this a place for both rest and playing.
Customer's Choice: The Refined Feline Kitty Ball Cat Bed
The adaptable, versatile, and stylish Kitty Ball Cat bed really raises the bar for pet furniture in general. Not only that this gorgeous faux ratan elevated bed looks stunning in any setting, but it cats also love lying in it. A win-win combination! The inside holds a soft, machine washable cushion for added comfort, and the roomy 17-inch dome can be placed in two different positions. While the faux ratan has that lovely handwoven look everyone loves, this is actually made from durable plastic, so you won't have to worry about your cat ruining their new bed. In fact, they can freely scratch it and it won't budge a bit. The Refined Feline Kitty Ball Cat Bed comes in two colors: smoke and espresso.
Budget Choice: Frisco Foldable Canopy Cat Bed
Is your kitty one of those stubborn felines that need a bit extra persuasion to try out a new bed? How about a snug canopy bed with a teasing fluffy ball dangle to keep them interested? Frisco's foldable cat bed has a spring-loaded frame that can be pulled over the soft cushioned bottom to create a 'cat cave' effect and give your pet a safe haven to sleep in. The dangling balls on the edge of the canopy are just an added bonus to this compact pet bed, as they are certain to pique most cat's interest.
Best for Summer: Kitty City Cotton Rope Woven Cat Bed
In case you live in an area where temperatures don't drop too low, you probably aren't that enthusiastic about sherpa lined beds or cuddlers with thick warm bolsters for your pet. This cotton rope bed is a perfect compromise between cozy and refreshing. The cotton rope is insulating but not too much- it will keep your pet warm but not overheated in the summer. The soft, fluffy cushion inside is removable and machine washable. To boot, with each bed, you get 3 grams of natural catnip to sprinkle over it- in case your kitty needs to be motivated a bit to transition to a new sleeping place. Finally, the design of this cat bed is another quality that makes it so popular. The combination of neutral grey or tan with a vibrant mint color is trendy and will look great in any living room!
If you have a cat that likes to be snug or hidden when sleeping, you can't go wrong with a burrow bed. This comfy cat bed is made of faux suede and faux fur and designed to completely envelop your kitty- it's basically a bed that hugs you. Most cats adore these cozy burrow beds, so it's a good bet if you're unsure about the design of the bed in the first place.
Kitty City Steel Claw Sleeper Cat Bed
This budget-friendly, two-story cat bed is ideal for multi-cat households. The lower part of the construction is a comfy spacious bed with raised sides and the top is a hammock-style canvas bed. A little something for every pet's preference! Additionally, if you have a cat that likes both to sleep on high places and in cozy little nooks, this versatile two-story cat bed gives her both of the options.
MEOWFIA Premium Cat Bed Cave (Large)
Cat caves are usually instant hits with felines, as they love the hideout concept. This one is made out of 100 percent natural felted Merino wool which is eco friendly and completely free from harsh chemicals and synthetics. To boot, merino wool naturally repels odor, dirt, and stains so it is ideal for a cat's napping place. Not to mention that the unique design makes this cat bed look insanely cool! The cave shape is particularly popular with cats due to its natural "burrow" look, that instantly draws in cats as a comfy and secluded nook to keep them safe.
Fhasso Luxury Bamboo Cat Bed
These premium cat beds are made for the most spoiled of kitties (isn't that yours?) as they're handmade in rural Vietnam. That means that not only are they custom-made, but they are contributing to a bigger picture by adding work to fair-trade small businesses and helping factor fair-trade business practices throughout communities to help support the craftsman's local region.
Plus, for your cat, this gorgeous tent bed is made with environmentally-friendly and sustainable bamboo. That means it's safe and strong for your cat, but even better for production for our planet. The machine washable cushion cover is a soft velvet that is also easy to zipper off for cleaning. It's a perfect outer shell for protection but inner sanctuary for them to feel their divaness—safe and private to do whatever it is that cats like to do in spacious coziness. Yes, that's a thing and your cat wants it!
PAWZ Road Cat Sleeping Bag Self-Warming Kitty Sack
Your cat will be snug as a bug in this adorable kitty sack! Self warming velveteen makes this envelope bed cozy and toasty, so it's perfect for winter time or young kittens or seniors, who both need that bit of extra warmth when sleeping. And this stylish velveteen material is not only renowned for its plushy warmth – it can double as a very elegant addition to spice up a room's ambience.
Are Cat Beds Necessary?
Before even considering the purchase of a cat bed, a lot of owners are quick to dismiss them as unnecessary. The fact that a cat will snooze wherever it wants is a general rule of thumb. But don't be so quick to judge. Try opening a cardboard box in the room – it's safe to assume that your kitty will be snuggling within it in a matter of moments. If it's new, it is for snoozing – that is the motto of every cat. Why not step it up a bit: introduce a lovely and cozy new cat bed and it is guaranteed that your furry friend will be all over it.

Cat beds are not only a new distraction for your cat, but they also have the advantage of being comfortable and warm. For those cold months of the year, a cat bed can be an invaluable accessory for your pet, offering a warm nook for snoozy hibernation. If you notice that your cat is a bit fuller of energy than usual, maybe this accessory is exactly what is needed – comfy rest can be much more enticing for a cat than running amok.
Why Rest is Important for Cats
There's a reason why a snoozing cat is a frequent sight: felines sleep for 12 to 16 hours a day, and that number is only greater for puppies and senior kitties that can spend the majority of their time napping. But there is a clear reason that cats love to sleep so much- it's not that they are lazy. Consider it as a recharging of their batteries! Plenty of sleep helps to maintain balanced function of their body, to maintain good health, and optimal mental health too. Of course, the fact that they spend so much of their life in sleep also means that it should be in a place that supports their body properly.
Sleeping on hard surfaces might seem like no obstacle to your feline friend but in reality, it can leave lasting effects on their body, especially as they get older. Problems with joints, back, and chronic pain can be a result of inadequate sleeping places and a cozy orthopedic bed for your cat would not only guarantee comfort but also make sure that their pressure points are relieved and their body supported in a way that helps keep their joints in top health.

We are committed to finding, researching, and recommending the best products. We earn commissions from purchases you make using the retail links in our product reviews. Learn more about how this works.

Angela Vuckovic
A proud mama to seven dogs and ten cats, Angela spends her days writing for her fellow pet parents and pampering her furballs, all of whom are rescues. When she's not gushing over her adorable cats or playing with her dogs, she can be found curled up with a good fantasy book.
More by Angela Vuckovic
Published March 30th, 2021 12:00 AM