2.1K Views
February 11th, 2021 12:00 AM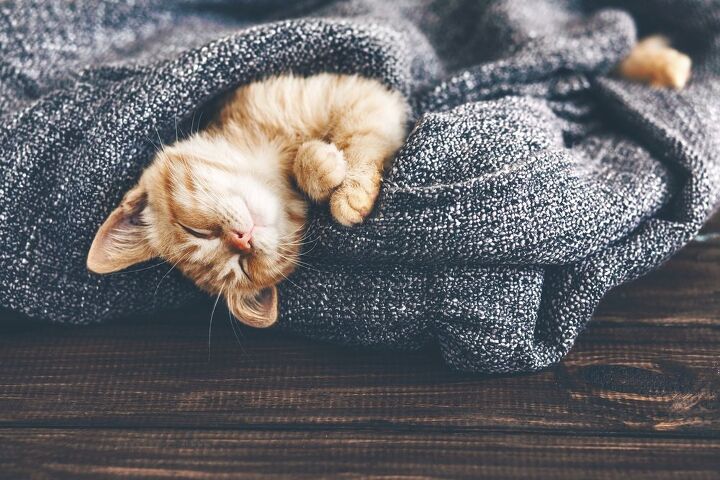 If you're a cat parent, you already know how much kitties love snuggling into a warm blanket. Most cats of all ages will gladly spend time on or under a blanket for warmth, security, and comfort. That's why there are a lot of cat blankets available these days. These products are designed for pet parents who want to give their feline companions their own soft blanket to use daily. And they can be a great way to enrich your pet's environment while keeping your furniture in good condition.
Below, we discuss some of the reasons why it's worth purchasing a blanket that's made with cats in mind. And we've also put together a list of blankets that we think are worth your consideration if you decide to shop for one.
Why Your Cat Might Like Having a Blanket That's Made for Pets
Would your cat like a blanket of her own? Well, if she tends to spend a lot of time on your blankets on the bed or on the couch, the answer is probably yes.
Here are some ways that a cat blanket can come in handy:
If your cat tends to use your blankets all the time, but you are worried about her claws tearing the fabric, especially when she kneads, it's a good idea to get her a blanket of her own that she can use instead of yours.
You can place your pet's blanket wherever you want so she'll know that it's her little spot. Plus, whether you put your companion's blanket in her cat bed or on a piece of furniture, it will create a nice area where she can spend time with your family while feeling completely at ease. And a soft blanket is especially inviting during the colder seasons of the year.
Another reason why both you and your cat will like having a pet blanket: it can help protect your furniture from sharp claws and messes. And, of course, when you want to spend some time cuddling on the bed or sofa with your family and fur babies, a blanket may help encourage your frisky feline to come relax with you.
With a comfortable blanket that she can use all the time, your cat can knead to her heart's content, without tearing the comforter on your bed or your soft sofa in the living room. And she can use it to spend time snuggling with the other kitties in your household too, but you won't have to worry about all of their fur being left behind on your furniture.
If your cat tends to look for anything soft to lounge on, such as your clothes, and you want to stop her from doing that because she leaves a lot of fur behind, a blanket that she can use whenever she wants might be a great solution to this problem.
Whether your kitty wants to play, nap, relax, or sit and watch what's going on around her, a blanket could be her spot where she can enjoy these activities. And she will also get her scent on the blanket, which might be helpful if you want to create a safe spot that she can go to whenever she wants.
If you travel with your kitty, you can pack her blanket so she can have something familiar and comforting while she's on the move with you, as well as once you reach your destination. You can even place it in her carrier to help her feel at ease.
What to Look for When Shopping for a Cat Blanket
Once you start your search for the right pet blanket for your cat, you'll realize that there are a variety of options to choose from. We recommend looking at the main features to determine if a blanket would be right for your unique kitty. After all, the last thing that you'd want to do is buy a blanket only to have your finicky feline reject it and never use it.
Here are some things to look for as you shop for cat blankets:
The size of the blanket – You want it to be large enough to provide space for your cat to lounge on top of it or rest underneath it. And you might also want it to be large enough to wrap around your cat for extra comfort. Or you might need it to be a certain size to properly cover your furniture.
The material – The softer and fluffier the material, the more likely that your kitty will be immediately drawn to the blanket. Remember, a lot of cats like to knead, and they also search for cozy places to rest and recharge.
Durability – When you buy a pet blanket, you'll want it to last. If it ends up falling apart right away, not only will your cat be disappointed, but you'll also have to spend even more money to replace it. So, looking for blankets that are built to be long lasting, with high-quality materials and stitching, is a smart move.
Waterproof protection – If you want to protect your furniture against pet messes and accidents, you might want to go with a blanket that is waterproof.
10 Cat Blankets That We Think Your Kitty Will Love
Are you thinking about buying a blanket for your best furry friend? We're here to help! We took a look at some of the many pet blankets out there, and we've compiled a handy list of 10 products we recommend checking out. They're showcased below, in no particular order, and we've provided descriptions to help make finding the perfect blanket easier.
1. Comsmart Warm Paw Print Blanket/Bed Cover for Dogs and Cats
The Comsmart Warm Paw Print Blanket/Bed Cover for Cats can be placed on your furniture, and you can also put it in your pet's carrier or in your car when you're on the go together. It can be used to protect your furniture, and because of its soft (but not heavy) fleece, it can be utilized throughout the year as well. Plus, these blankets measure 24" x 28", so they can be a good size for your fur babies, regardless of their age.
What's also nice about this particular option is that it comes in a pack of six. Each blanket is a different color and features an adorable paw print design. This means you will have plenty of blankets for all of the kitties in your household, and there will also always be a blanket available even when you need to toss one into the washing machine to thoroughly clean it.
2. Furrybaby Premium Fluffy Fleece Dog Blanket, Soft and Warm Pet Throw for Dogs & Cats
The Furrybaby Premium Fluffy Fleece Blanket is a throw that will provide your cat with the softness and warmth she craves, especially during the cold winter months. It is made of 100% polyester, it is machine washable, and it is designed to last, without fading or shedding. You can use this thick, lightweight blanket to protect your furniture and keep it clean, or you can place it on top of your bed to create a cozy little spot that your furry friend can go to whenever she wants.
You can choose from a variety of colors, such as beige, gray, blue, brown, pink, and red. And you can also select the right size for your cat, as this blanket comes in sizes small, medium, large, extra large, and jumbo. Plus, there are double layer options available as well.
3. PetAmi Premium Plush Sherpa Pet Blanket Sized for Cats, Small Dogs, Puppies, Kittens
Another thick and ultra-comfortable blanket that your cat might love using every day is the PetAmi Premium Plush Sherpa Pet Blanket. It features microfiber sherpa on one side and silky smooth fleece on the other, so it is super soft no matter what side your cat uses. And it is built to be durable. Plus, it is sized for kittens and cats, as it measures 30" x 40", so it can be used to create a comfortable spot where your fur babies can feel calm and ready for a nap.
This reversible, plush, and lightweight blanket is simple to clean because you can toss it into your washing machine and then tumble dry low. And it comes in various colors, so you can purchase more than one to be able to keep your kitty happy while you're washing one of them.
4. Custom Catch Personalized Cat Bed Blanket Gift for Indoor Cats
The fun thing about the Custom Catch Personalized Cat Bed Blanket is that you can customize it however you'd like. Add your pet's name, along with adorable designs like hearts, paw prints, and cats, to make this soft and silky blanket one-of-a-kind.
This micromink blanket comes in two sizes, and you can also choose from two different colors. It can be used in the car, on the floor, and anywhere else around your house where your kitty likes to spend a lot of time relaxing. Plus, when you need to clean it, this product is machine washable.
5. PetFusion Premium Reversible Dog & Cat Blanket
The super soft and reversible PetFusion Premium Cat Blanket is a great choice when you want to enjoy some cuddle time with your pet. And when you toss it onto your furniture, such as your sofa, it can also help protect it from your rambunctious feline friend. You can choose from several sizes, such as small, medium, large, and extra large.
This polyester micro-plush pet blanket features a dual-sided design, and it is warm and comfortable so it can be used throughout the year. Its plush fibers will resist pilling and shedding, so that's definitely a plus. And, when it comes to cleaning it, you can use a lint roller or toss it into your washing machine to keep things simple.
6. Molly Mutt Clark Gable Dog & Cat Blanket
The Molly Mutt Cat Blanket comes in a variety of fun colors and designs, and the Clark Gable style is just one of them. No matter which one you select, this blanket can help protect your furniture from claws and fur, as well as provide comfort to your furry friend, all while looking fabulous in your home. After all, you don't always want your pet's accessories to stand out, and it's nice to have products that blend in beautifully with the rest of your decor.
This blanket features a quilted finish, and it comes in various sizes, such as medium and large, so you can choose the one that will give your pet the ultimate level of comfort and warmth. One side of the blanket features 100% cotton canvas, while the other side features soft fleece. And it is super easy to clean because it is machine washable too.
7. PETMAKER Waterproof Pet Blankets
Above, we mentioned that some cat blankets feature a waterproof material that can provide extra protection from messes and accidents. Well, the PETMAKER Waterproof Pet Blanket is one example. It gives you peace of mind when your kitty is hanging out on your furniture, and it also helps her feel totally cozy, so it's a great choice for both of you. Plus, this blanket is reversible, so there is fuzzy and soft sherpa on one side, along with a soft, plush material on the other side.
Designed to provide protection while being stylish, this blanket comes in several different colors, such as tan and cream hues that are neutral enough to work with most décor, a fun pink color, and attractive gray and dark gray shades. You can also choose from two different sizes, depending on your needs and preferences. And when you need to clean it, this product is machine washable.
8. Harmony Cozy Sherpa Pet Throw in Polka Dot
Another soft and lightweight blanket is the Harmony Cozy Sherpa Pet Throw. This is a solid choice when you are looking for a blanket that can be used throughout the year to help keep your feline friend nice and comfortable, regardless of the weather.
This fleece blanket measures 24" x 24", so it might be the optimal size for your furry companion. You can find other color options, but the one that we chose to display features a cute polka dot design on a gray background on one side, and it's white on the other side. Plus, it also has a decorative basting stitch that is reinforced with hidden stitching. Overall, this can certainly be an attractive addition to your décor when you use it on your sofa or bed, and your cat is sure to love snuggling into it.
9. Bessie and Barnie Blondie Luxury Shag Ultra Plush Faux Fur Pet, Dog, Cat, Puppy Super Soft Reversible Blanket
The Bessie and Barnie Super Soft Reversible Blanket is yet another option that comes in a range of colors. The one that we chose to showcase on this list is the brand's Blondie Luxury Shag Ultra Plus Faux Fur. This is a product that features a neutral color that will probably match the rest of your home décor. And this can be a perfect blanket for cuddling with your pet, as you'll surely want to use it too.
Built to be warm, thick, and durable, this long-lasting blanket features colors that won't fade. The faux fur provides ultimate comfort on both sides. Plus, it is plush, machine washable, and luxuriously soft, so it is a top choice in the world of cat blankets. And you can choose from a range of sizes, from extra small to extra extra large.
10. Brentfords Sherpa Pet Animal Blanket Puppy Dog Cat Kitten Kennel Mat Warm Throw
Last on our list is the Brentfords Sherpa Pet Blanket, which features soft and cozy sherpa fleece. Use this as a throw blanket to keep your furniture clean and to help your cat feel totally relaxed. It comes in a couple of color options, which are blue and charcoal gray, but the sherpa side of the blanket is beige.
Your cat will more than likely enjoy snuggling into this plush yet lightweight blanket, whether you use it at home or on the go. And it is a good choice when you want to spend time with your kitty on the sofa or bed, as it will keep both of you warm and comfortable. Plus, like the other blankets on this list, this product is machine washable as well.
Get Your Fur Baby the Ideal Cozy Blanket for Cats!
Because there are so many adorable, soft, and comforting blankets made especially for cats, you have a lot of options when you're ready to find the perfect one for your furry companion. And once your kitty has a blanket of her own, she'll surely want to use it every day. So, which blankets will you choose, and where will you set them up in your home?

Lisa Selvaggio
Lisa Selvaggio is a freelance writer and editor, and our resident cats-pert, with certifications in pet nutrition and pet first aid. An advocate for better treatment of all animals, she enjoys producing content that educates others, helps them understand animals better, and inspires them to help, whether that means volunteering at a shelter, fostering strays, or simply giving their own pets a safe and happy home to live in.
More by Lisa Selvaggio
Published February 11th, 2021 12:00 AM