48 Views
We're committed to finding, researching, and recommending the best products. We earn commissions from purchases you make using links in our articles. Learn more here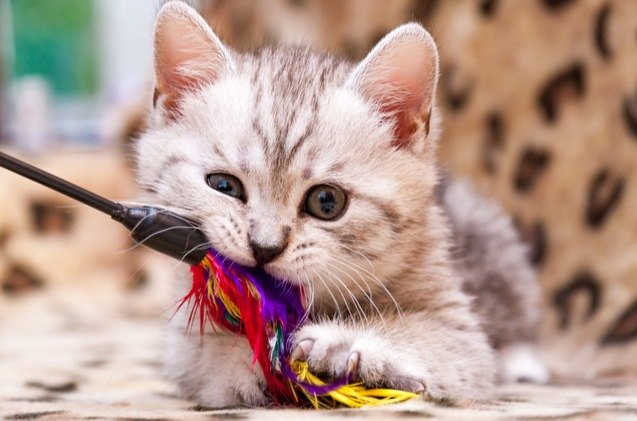 Cat toys are important for your pet's overall wellbeing: not only are they fun, but they also promote mental and physical health through much-needed stimulation. Here are some of the most entertaining and durable cat toys on the market.
There's nothing a cat loves more than to play. True, treats and napping are pretty close to the top of their favorite thing but play? Playtime is something really special. On the whole, it is quite important in the daily routine of any pet, not just cats. Regular playtime ensures that all that energy is spent properly and that your pet is healthy, happy, and fit! Still, if you fail to provide a good source of fun around the house, your cat might get bored. And out of boredom grows apathy and lethargy, then obesity, and after that a whole string of health issues that can seriously affect your cat's wellbeing. Not to mention that bored kitties tend to make chaos around the house in lack of better things to do! In order to make sure that your pet is happy and your prized possessions safe, you should arm yourself with plenty of fun cat toys.
Cat toys come in all shapes and sizes, and are not "just" for fun- they provide much-needed mental and physical stimulation to your pet. From dangling mice to soft enticing feathers, all the way to the advanced electronic and robotic toys – the choice is nearly endless! Of course, you can always discover what suits your cat's unique tastes – after all, we all know very well that cats can be extremely picky about the things they enjoy. Sometimes, even the simplest of toys can occupy your feline friend for hours on end, and in other situations, only complex puzzles can do the trick.
Editor's choice: Goopow Automatic Cat Toy
Automatic is always great! It saves you the hassle of having to be the one that actually moves the toy and makes things so much more fun and easier for both you and your pet. Goopow Automatic Cat Toy is truly the thing of the future. Shaped like a cat, this toy stands on its own and features a rotating laser pointer that is sure to keep the cats occupied. With 5 cycling patterns, the laser creates random 360-degree motions across the floor and keeps the fun going. It also features a 15-minute auto shut-off to avoid tiring your feline friends out. It relies on either four AA batteries or a standard USB charger. Simple, modern, and endlessly fun!
Runner up: Boqii Interactive Indoor Cat Toy
No pet can resist a ball toy, not even kitties- they might not fetch but they sure love the chase. This rechargeable interactive toy ball is a great way to provide the fun your cat needs and lay back to enjoy the show. Boqii Interactive Indoor Cat Toy features three interactive modes for every feline mood and boasts a smart algorithm that either zooms about the house with randomized patterns or lies enticing and dormant when it recognizes it isn't played with. When your cat loses interest, the ball enters its stealth mode, mimicking prey and enticing the cat again. Thanks to a USB port, the ball is quickly and easily recharged for the next fun adventure. Not to mention that the ball is plush and furry, making it soft and all the more tantalizing!
Customer's choice: ZeyZoo Feather Teaser Cat Toy
Nothing beats the good old teaser toy- it might seem simple to you, but this type of toy plays into all of your cat's instincts. A dangling feather-like shape can provide hours of fun, and ZeyZoo knows it! This toy features a sturdy yet flexible retractable wand, to which you can attach one of the included dangly toys- worms or fish. Bright and squirmy, these plush toys are bound to make any cat go nuts! Included in the package are 2 wands, 7 worm toys, 1 dangly fish toy, and 1 spare hook in case your kitty gets too rough with the toy. Of course, all the parts of the toy are made from durable, and pet-safe materials. If you are looking for a basic and affordable toy to keep your kitty entertained, this is the one to go for.
Best natural: Paz's Gift Catnip Toys
Paz's Gift Catnip Toys are a completely natural solution for your pet's boredom- and a great way to promote better oral health, as well. This ropey grinding stick is made from Polygonum Civorum, known also as Silvervine, and is a totally safe, 100% natural toy without any additions or preservatives. Silvervine is said to be more attractive to cats than catnip, and this makes it a sure win with all the felines! This toy will help with relaxation and stress relief, as well as teeth hygiene and even claw health and scratching. Made from all-natural components, this toy really offers it all, from fun to health benefits.
Best motorized: Cat's Meow Motorized Wand Toy
This unique motorized wand toy is a fantastic way to introduce activity into your cat's daily routine all the while making exercise fun and impossible to resist. This speedy mouse wand moves independently, silently, and changes direction when you least expect it. Cat's Meow Motorized Wand Toy features 3 different speed settings and a 30-minute auto shut-off setting. One press of the control button sets the toy into motion, and the fun quickly begins. The peeking little mouse wand string is sure to drive the kitties nuts, while the bright yellow covering is easy to spot. The toy works well on most flat surfaces, carpets included! Can't go wrong with this one!
Best interactive: PetFusion Ambush Interactive Electronic Cat Toy with Rotating Feather
Cat's are all about interaction when it comes to playtime. More movement equals more fun! PetFusion Ambush Interactive Electronic Cat Toy will give your pet the excitement they crave with ease. This automatic electronic toy will entice them with a feather that randomly rotates between 6 different side entries- they'll never know out of which hole it will pop out! The LED lighting makes it a good choice for night or day and adds to the appeal overall. To prevent your kitty from moving the whole toy around in their enthusiasm, there are anti-skid feet on the bottom which make sure it stays firmly put no matter how hard your pet paws at it. It runs on 4 AA batteries so it's portable and can be used wherever you are.
Best for kittens: Reeple Interactive Cat Toy
Reeples traditional cat toy design does everything by the book! With some key kitty-fun elements, this toy is deemed to satisfy even the pickiest of cats – and to ensure some much-needed exercise as well. The doughnut-shaped toy features two halves and a fast-moving rolling ball in between them. Watch as your kitten pursues the ball in circles, and tries to stop it in between the cutout shapes. Another addition is a long spring mounted in the center. On its top is perched a fluffy white mouse – and he's certainly in for some rough and rowdy fun when the cat spots it. Simple, rewarding fun, and ample exercise are guaranteed with Reeple Interactive Cat Toy.
Best on a budget: SPOT Ethical Cat Spring Toy
You don't have to break the bank for your pet to have fun! These bouncy spring toys can help save your budget and keep the kitties occupied for hours on end. Made from durable plastic, these springs come in a variety of colors and are designed to be extra wide for some added bounciness. The springs are guaranteed to make a lot of jerky, sudden moves that will entice any cat – and all that without the need to resort to larger, pricier toys. This brand offers a variety of packs and widths, so find the one best suited for your cat and watch them go bananas for something so seemingly simple.
Best smart toy: BurgeonNest Robot Cat Toy
If you are looking for that hands-free toy that will give your pet tons of fun, this is the one to get. Featuring three distinct operating modes, and 2 different speed settings, this flashy toy is so full of features, that it virtually never gets boring. And it isn't just a quirky two-wheeled zoomer: it boasts interchangeable dangling feather toys as well, which only add more interest to the design and keep kitties obsessed. BurgeonNest Robot Cat Toy also has a 2000 mAh battery that allows it to work up to 7 days on end – and it also relies on a quick and easy USB recharging. This isn't just fun for your cat – this is fun for the whole house!
Best catnip: TOOGE 2-pack Moving Fish Toy
What do you get when you combine the two things every cat adores? You get one top-notch toy, that's what! TOOGE 2-pack Moving Fish Toy is bound to grab your cat's attention because of its lifelike look and fun movement. Thanks to the 3D printing design, these fish are quite lifelike and boast a built-in USB-rechargeable mechanism that allows them to wiggle around – just like the real thing. But that is not all! Inside these fish are little catnip pouches to further entice your cat to play. Perfect for picky cats that quickly grow bored with most toys!
What are the Benefits of Cat Toys?
Cat toys can be really important for your cat's overall well-being. Kitties, adults, seniors – cats of all ages and personalities will not hesitate to enjoy some well-earned fun. But it is important to understand the benefits that lie behind this- while entertainment is certainly most welcome, it's not the only reason why cats need toys.
Exercise
As we know quite well, exercise is crucial in the lives of all creatures. It helps maintain a functioning, healthy body and reduces threats in all other aspects of the overall well-being. Cats, natural-born hunters, and predators need plenty of exercise to stay in shape, but it often doesn't happen, especially for indoor cats. With the help of toys, you can ensure that your feline friend gets all the activity he or she needs even if they don't get to go on outdoor adventures and hunt. Quality playtime reduces the risk of stress, apathy, obesity, cardiovascular issues, boredom, and joint pain down the road.
Nurturing Instincts
In a natural setting, your finicky little feline friend would quickly turn to their innate instincts. Cats are the perfect hunters, stalkers, and predators – in the wild. Often enough, you can spot these aspects of their character in your home in ordinary situations, like when they attack your unsuspecting legs or chase after the broom. Cats need to follow their natural instincts and satisfy that need for skulking, stealthiness, and hunting. Specific cat toys can ensure that the neighborhood's parrots, sparrows, and squirrels are all left in peace while your pet gets to express their hunter instincts. Opt for motorized, quick-moving wheeled toys or wiggly fish toys – these are certain to satisfy the hunter in every cat.
Corrects Behavioral Issues
Not all cats are the same. Characters often differ, and much of it has to do with the early 'upbringing' and training. If something was not right early on, your cat can develop certain behavioral issues later on – excessive anger, anxiety, shyness, and so on. You would be surprised to know that cat toys can become a big remedy for these issues. In many cases they are the missing piece of the puzzle- they give your pet an outlet for pent-up energy, they can help nurture their instincts in a healthy way, and help them break out of their shell.
Stressed out and unhappy kitties will often show you their claws- displays of aggression are almost always caused by a deeper problem, sometimes medical and sometimes behavioral. Constant hissing, seclusion, destroyed furniture, and endless bite and scratch marks on your arms can be just symptoms. If health issues are ruled out, the solution might be as simple as getting a brand new flashy toy to keep your kitty engaged and occupied. For these cases, cat toys with catnip can be an ideal choice, as catnip is known to relieve stress, improve mood, and entice most kitties into play.
We are committed to finding, researching, and recommending the best products. We earn commissions from purchases you make using the retail links in our product reviews. Learn more about how this works.

Angela Vuckovic
A proud mama to seven dogs and ten cats, Angela spends her days writing for her fellow pet parents and pampering her furballs, all of whom are rescues. When she's not gushing over her adorable cats or playing with her dogs, she can be found curled up with a good fantasy book.
More by Angela Vuckovic
Published July 6th, 2021 12:00 AM