454 Views
February 4th, 2021 12:00 AM
We're committed to finding, researching, and recommending the best products. We earn commissions from purchases you make using links in our articles. Learn more here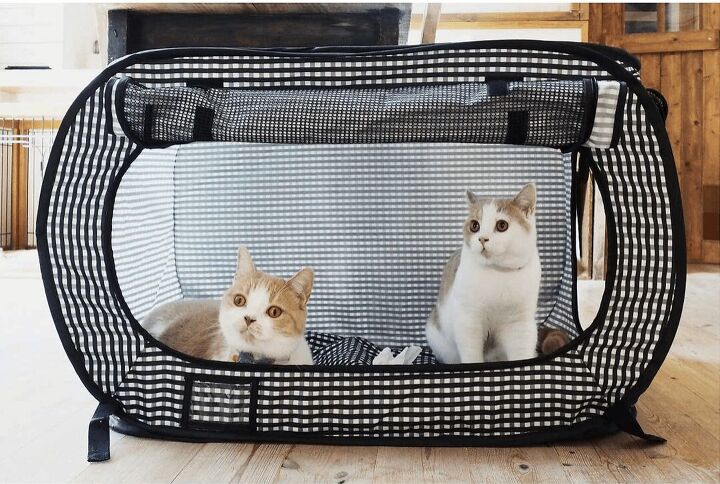 Have you ever thought about getting your cat an enclosure? If not, it might be worth considering. Check out the information below to learn a bit about the benefits of various types of enclosures for cats, and to access our list of product recommendations.
When Might It Be a Good Idea to Use a Cat Enclosure?
There are several situations in which having a cat enclosure can come in handy. For example, when you are renovating your home, when you have visitors, or when you need to leave the front door open for any reason, placing your pet in an enclosure can help keep her secure, ensure her safety, and prevent her from getting lost.
If you have adopted a cat and you already have kitties at home, it's a good idea to keep them separated at first, and then gradually introduce them in an effort to avoid conflict. In this case, putting the new cat into an enclosure might be a helpful way to introduce them, and it might also give the newcomer an opportunity to start feeling comfortable in her new home. Remember, it can be tough for your resident cats to get used to the idea of a strange feline in the family, but the enclosure may give them all the chance to get to know each other's scents without being able to attack each other.
Yet another reason why you might need to get an enclosure for your kitty is if she is recovering from an injury, illness, or surgery. Your veterinarian might recommend keeping your cat in a confined space to limit her movement and to keep a close eye on her while she recuperates. In this scenario, a comfortable enclosure might be super helpful.
Gradually Introduce the Enclosure to Your Kitty
No matter what your reason is for getting an enclosure for your pet, it's best to place it in an area of your house that your kitty feels comfortable in. Setting it up in a quiet and calm space may help her feel at ease, especially if being in an enclosure is a new experience.
Also, be sure to regularly check the enclosure to be sure it is in good condition before putting your cat inside of it. For example, it should close securely, and there shouldn't be any loose parts that could be dangerous.
If your cat isn't accustomed to staying in an enclosure, it might be stressful for her to be put into one. So, train her gradually and be patient. Perhaps try enticing her to go into it with some treats and toys, and leave the door open. Then, close the door to the enclosure while you are still nearby. Leave her in it for a few minutes at first, and slowly build up the amount of time that she spends in there as she gets used to it. Over time, you might even find that your kitty decides to retreat to her enclosure when she wants to spend some time relaxing by herself.
There Are Several Different Types of Enclosures to Choose From
When you start shopping for cat enclosures, you will quickly realize that there are several different types that you can choose from. You can find those that are designed for use indoors, as well as those that can be used outside when you want to let your cat get some fresh air and sunshine while staying safe. In fact, if you don't have the space for an outdoor catio, an outdoor cat enclosure may be the next best thing for your adventurous fur baby.
In addition to large enclosures that have multiple levels to give your kitty plenty of space to move around, eat and drink, and use her litter box, there are enclosures that are smaller and easy to fold up and take with you when you travel with your pet. This can be a great way to give your cat a safe space that's larger than a typical carrier so she can be more relaxed while you're on the go together.
Whether you opt for an indoor or outdoor enclosure, it's wise to carefully check the materials that the product is made of. You want it to be a sturdy structure that will keep your kitty secure at all times.
Here's a short list of some of the different types of cat enclosures that you'll find in stores and online:
Tents can be a good choice for kitties that like spending time outside, as they provide a large space that lets you keep an eye on your cat while in your backyard. They are usually easy to set up, and they can be placed on your lawn so your furry friend can play in the grass and nap in the sunshine.
Cages are built to be secure, and they can often be rolled around easily so you can set them up wherever they need to go. Often featuring multiple levels so your kitty can sit on a high perch to see what's going on around her, these also have room for bowls and a litter box, as well as toys. They might be a convenient option if you have a mother cat and kittens, or if you need to keep your pet enclosed for a longer stretch of time.
Soft-sided playpens are a great option when you are traveling with your cat, as well as when you want to keep her in a safe, confined space inside the house. Plus, you might even be able to take this type of enclosure outside to spend time with your kitty in the garden as well. And these also often have room for a small litter box, a cat bed, a couple of bowls, and some toys to keep your cat content while inside.
Check Out These Enclosures for Your Feline Friend
Now that we've covered the basics when it comes to why you'd need a cat enclosure, and we've discussed the different types of products that are out there, let's take a look at some options.
1. IRIS 3-Tier Plastic Cat Cage Playpen
The IRIS 3-Tier Plastic Cat Cage Playpen has more than one level that your cat can hang out on, so she can decide whether she wants to stay low to the ground or if she wants to go up high to get a better view of her surroundings. There is enough room for a litter box, bowls, and toys. And you can also keep the doors open when you want to give your cat the freedom to decide if she wants to be in or out of the cage.
This product is lightweight yet sturdy, and the four wheels ensure it will be easy to move around as needed. It measures roughly 32" x 22" x 69". And this cage also features doors on the top and side, so you can give your kitty multiple options when it comes to getting into and out of it with ease.
2. Necoichi Portable Stress Free Cat Cage and Litter Box Set
If you are looking for a side-sided enclosure, check out the Necoichi Portable Stress Free Cat Cage and Litter Box Set, which comes with a litter box and fleece mat. It has two mesh panels on the sides so your furry friend can easily see what is going on around her. However, you can roll down the sides if you think that your cat will be less stressed that way.
A great option for use at home and when you are traveling with your pet, this enclosure has built-in seat belt straps, and it is simple to fold down, transport, and store away. Even the litter box can be folded down for transport and storage. Plus, this enclosure features a waterproof liner that makes it easy to clean, and it measures roughly 32" x 20" x 20".
3. Paws & Pals Insta-Fort Portable Soft-sided Dog & Cat Playpen
Another soft-sided enclosure that's worth checking out is the Paws & Pals Insta-Fort Portable Cat Playpen. This is a polyester enclosure that you can use inside your home, as well as outside in your yard because it comes with outdoor anchoring stakes. It is designed to give your cat a safe space to play and relax, and it is large enough to put food and water bowls, a cat bed, toys, and litter box to ensure your furry friend has everything she needs.
This product measures 48" x 48" x 25", so it gives your cat a good amount of space. The top and the bottom of this enclosure are removable, and the enclosure itself is easy to set up and take down. It also features a couple of zippered doors on the sides, a total of eight mesh windows that your cat can look out of, and exterior pockets. When not in use, it will fold up and you can put it in a carrying case, so it is simple to store away or take with you when you travel.
4. Frisco Collapsible Wire Cat Cage Playpen
The roomy Frisco Collapsible Wire Cat Cage Playpen measures roughly 35" x 23" x 48". It can be used to provide your pet with a comfortable and secure place to relax while inside your home. This product features dual door latches for security, and it also comes with three mats and three shelves that are adjustable, so your kitty can have multiple levels to lounge on. And there is room for more than one cat to play and nap inside.
Setting this cage up wherever you need it to go is simple, especially since it has rolling casters. The front door of this enclosure swings open, so it is easy to access what's inside and keep it nice and clean for your cat. And, when not in use, you can store it away because of its collapsible design.
5. Frisco Soft-Sided Dog & Cat Exercise Playpen
The Frisco Soft-Sided Cat Exercise Playpen can be a good choice for kitties of all ages. It is easy to set up this lightweight enclosure because you don't need any tools at all. And you can opt to set it up inside your home, or you can use it outside in the great outdoors with the ground stakes that are included. It has two zippered doors, along with mesh windows for visibility and airflow. The top zips on with ease, and there is a handy pocket for storing whatever you want to have within reach for your pet.
When you are done using this cat enclosure, you can simply fold it flat and store it away in a carrying bag. This feature also makes it a convenient option when you want to take it with you while traveling with your frisky feline. Plus, this product comes in various sizes, so you can select the one that's best for your cat(s).
6. Martin's Cages The Kitty Highrise Cat Cage Playpen
With the Martin's Cages Kitty Highrise Cat Cage Playpen, you can give your furry best friend loads of space when she needs to be confined for any reason. Measuring 30" x 18" x 36", this enclosure has two doors to make it easy for your cat to go into and out of the cage. The base is deep to help prevent litter from spilling out onto your floor. And this product is designed to be easy for you to keep it clean.
While inside this enclosure, your cat will have multiple levels that she can choose from. There is a middle floor, a couple of carpeted balconies, and three ramps to help prevent boredom and give your pet plenty of space to move around.
7. Prevue Pet Products Deluxe Cat Cage Playpen
The heavy-duty Prevue Pet Products Deluxe Cat Cage Playpen measures roughly 43" x 25" x 45", so it can be large enough for more than kitty to be comfortable inside. Plus, it is rust-resistant, and it doesn't have any pinch points or gaps that might hurt your pet's paws.
This lightweight yet sturdy product features three levels and two big doors on the front, along with a large base. It also comes with a hammock and a pair of lock-in platforms to give your cat options in terms of where she wants to lounge. The rolling casters make it easy to move this cage around, and it is simple to assemble.
8. MidWest Collapsible Wire Cat Cage Playpen
With the lightweight MidWest Collapsible Wire Cat Cage Playpen, you can keep your pet safe and comfortable whenever she needs to be confined. This product is collapsible, portable, and easy to store, and it is also simple to move and set into position, thanks to the roll and lock casters. Plus, it comes with a leak-proof pan to help keep messes off of your floor.
This product measures 36" x 23.5" x 50.5". It features two sets of double doors that are large and swing wide open, making it easy to get your cat into and out of the enclosure. And your pet will enjoy hanging out on the three adjustable resting benches or in the cat bed that is included.
9. Armarkat Model PP002R Portable Soft-sided Dog & Cat Playpen
When you want to purchase an enclosure that you can use indoors and outside, you can also check out the Armarkat Portable Soft-Sided Cat Playpen. It is simple to set up quickly because you just have to unfold it. Then, when you are done using it, you can fold it back up and place it in its storage bag (this also makes a good choice if you want to go with a product that is easy to take with you when you travel).
This lightweight product measures 36" x 36" x 24". It features a water-resistant material that is simple to clean, along with mesh walls and a mesh top that zips on and off. There are also pockets that come in handy when you need to keep things like your kitty's favorite toys nearby.
10. Outback Jack Kitty Compound Cat Playpen Tent & Tunnel
The Outback Jack Kitty Compound Cat Playpen Tent and Tunnel, which measures 74" x 63" x 36", is a great example of a tent designed for cats that like spending time outside. The tent provides over 30 square feet of space, while the tunnel is 62" long, so your kitty can have enough room to have loads of fun outside while staying safe.
This product is simple to set up, as you don't need any tools, and it comes with the pegs you need to secure it into place. Then, when you are done using it, you can put it into a carry bag for storage.
A Cat Enclosure Might Come in Handy!
Many pet parents find that the right enclosure can give you peace of mind when you want to be sure your kitty will remain safe and secure at home and on the go. Just remember that this is a solution that should be used for a short amount of time, so your cat shouldn't be left inside an enclosure for extended periods. And it's also important to supervise your kitty while she's inside, or at least check on her regularly to be sure she's okay. Once you both get the hang of things, you might wonder why you didn't buy one of these products sooner.

Lisa Selvaggio
Lisa Selvaggio is a freelance writer and editor, and our resident cats-pert, with certifications in pet nutrition and pet first aid. She enjoys producing content that helps people understand animals better so they can give their pets a safe and happy home.
More by Lisa Selvaggio
Published February 4th, 2021 12:00 AM