38 Views
September 9th, 2021 12:00 AM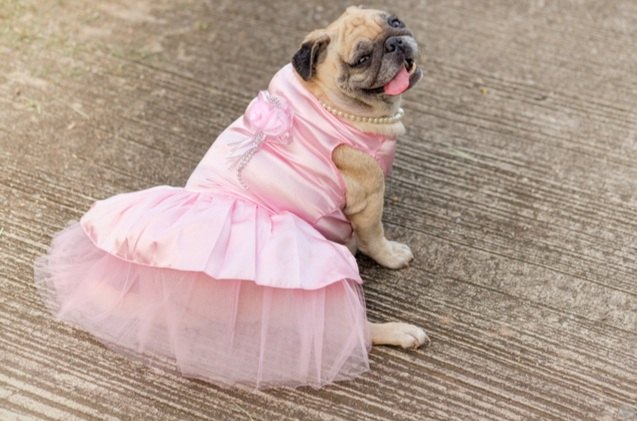 Dog dresses are a perfect accessory for special occasions: not only that they are super adorable but they are also comfy to wear. Check out our selection of the cutest, best-made dog dresses on the market.
While most dog clothes are made with practical use in mind – such as winter coats or anxiety vests– but dressing up doesn't always have to be a matter of need. For owners that love seeing their pooch dolled up and those dogs that don't mind wearing an outfit if it makes the hoomans giggle, the world of dog clothes is much more diverse than sweaters and jackets. There are so many available options, from seasonal dressing that includes Halloween costumes and ugly Christmas sweaters to stylish attires for dandy doggos such as bows and dog dresses.
What are the benefits of dog dresses?
Dog dresses are popular not just because pets look insanely cute in them (even though it is a major factor), but also because they're one of the easiest clothes to wear when you have four legs and a wagging tail. There are tons of different styles and designs out there but most function similarly like human dresses which means that the biggest part of your pet's body is free to move as it usually does. The closures are adjustable and only go on around the front legs or upper body, so your mutt is free to strut the same way they do when they are not wearing an outfit! Putting on a pet dress on your furry bestie is definitely the least complicated way to get them all gussied up for a special occasion- or just a walk to the park if you're a bit extra. We don't judge- honestly, what pet parent isn't, given a chance?
Things to consider when choosing dog dresses
Still, even though picking out dog dresses is a fun process, it doesn't mean that there are no factors you should pay attention to. Like it is the case with any kind of dog clothes and accessories, you want the dress to be well-made and durable and pleasant to wear, in addition to being adorable and stylish. Just because a dog dress is probably bought for a special occasion doesn't mean that your pooch won't get to wear it after that – and that you shouldn't get good value for money. As a result, you should check the materials used for safety, cleanability, and overall quality, as well as make sure that the fit and closure of the dress fit your pet's needs and preferences.
To help you find what you're looking for, we've selected the best dog dresses out there. Both in terms of quality and style, these dresses are up to our very high standards – and there are options on the list for small and big dogs alike. All you have to do is scroll on and enjoy the sheer cuteness that this curated collection of dog dresses is- and of course, pick out something cute for your precious furbaby!
1. Editor's Pick: Fitwarm Fancy Tulle Dress
With a posh outfit such as this, your pet could go to court and look the part – not to mention a fancy party or an important event such as a wedding. The top part of this little number is made from soft and stretchy black velvet and the skirt is made from luxurious tulle with sequins and embroidery. Despite being very fashionable, this dog dress is comfy to wear – you just pull it over your pet's head and pull their front legs through the armholes- the elasticated waistband around the chest ensures a perfect fit. Available in size extra extra small , this dress is best suited for toy and teacup breeds.
2. Runner Up: LKEX Dog Dress
Not all dog dresses have to be super fancy and posh to look cute- and this casual jersey dress proves it. Made from soft, stretchy, breathable cotton fabric, it is incredibly comfy to wear yet the combination of black and white stripes with a contrasting golden bow looks very striking. The dress is pulled over your pet's head and doesn't require complex closures to stay on for the evening. It is also machine washable so you can let your pooch play and run around the dog park without worrying she'll ruin her outfit. This dress is a match for toy and small dog breeds.
3. Best Fancy Dress: Vedem Dog Embroidered Lace Dress
Is your pooch a guest of honor at your wedding? Then you gotta make sure they look as pretty as their owner for that special day and this luxurious and elegant dress is definitely one way to do it. Lined, soft, and pleasant to wear, it is made from high-quality embroidered satin with a beautiful satin bow to top it all off. The dress comes in 3 colors: gold, burgundy, and pink and in four sizes that fit mostly toy and small dog breeds (the largest size will fit a dog such as Corgi or Cavalier King Charles Spaniel).
4. Best Birthday: It's My Birthday Princess Skirt Tutu Dress and Hat
There's only one barkday a year so you better do it right! Your pet's birthday is all about them- and in addition to cake and gifts, a special dress to celebrate the occasion could be a great choice, especially if you want to take some cute pooch birthday pics as well. This super adorable design features a pastel pink and white tulle skirt and a soft cotton top – with a colorful embroidery saying IT'S MY BIRTHDAY on the back of the dress. Needless to say, everyone will know who the star of the show is once your pooch comes in wearing this lovely outfit! To boot, you'll also get a fun dog hat shaped like a birthday cake, complete with candles on top and an adjustable under chin strap for a comfy fit. Everything you might need for a fun birthday photoshoot with your pet! This set comes in two sizes that fit small dog breeds.
5. Best Everyday: Cotton Tie Dye Dog Dress
Coachella who? This hippie tie dye summer dress will make your pooch look as fashionable as possible. Easy to put on and pleasant to wear, it comes in three vibrant tie dye print colors and it's perfect for twinning outfits with your pooch – maybe even to go visit a fun festival together, who knows? There are five sizes from XX-small to large, but all are designed to suit small dog breeds of different body shapes.
6. Best Tutu: SANWOOD Daisy Flower Gauze Tutu Dress
If you want your pooch to be a four-legged southern belle, look no more- this pretty little dress has it all. Made from soft cotton and gauze, it has a sleeveless top and a colorful tutu skirt adorned with a beautiful satin bow and large faux flower on the back of the dress. It truly is a head-turning dress! The sizes run small and the largest available size fits breeds such as Wheaten Terrier or English Bulldog.
7. Best Wedding Dress: FLAdorepet Wedding Dress for Dogs
Here comes the bride! And her furry companion by her side. If your sweet pup is part of your wedding party, then she needs a dress to fit the occasion. This fanciful dress by FLAdorepet is gorgeous and stunning- so just be careful she doesn't steal the show from the real bride when walking down the aisle. The sparkling rhinestones add bling to the design and the matching bow brings the entire thing together. The ballgown style is perfect as the flower girl, to accompany the ring bearer, or even for her next photoshoot. Heck, she could even rock this thing to the dog park because the only special occasion she needs to dress up is her existence.
The FLAdorepet Wedding Dress for Dogs comes in several sizes from extra small all the way up to large so no matter which breed you own, they will be able to dress to the nines for the special event in this gorgeous dress that you almost wish came in human size.
8. Best Sweetheart: Kirei Sui Valentine's Day Dogs Tutu Dress
Pretty in pink- this dainty little dress is perfect for petite princesses. Made from soft cotton with a tulle skirt and applique rosettes, it is adorned with a single satin bow on the waist to further contribute to the girliness of this outfit. This dress is available in sizes mostly aimed at toy and small dog breeds, with the largest size being a match for breeds such as Mini Poodle or Cocker Spaniel.
9. Best Sayings: Weewooday Printed Dog Dress Set
You already know your pooch is the most pampered doggo in the world so why not let the rest of the world know? The slip-on style makes this spring dress easy to put on and a perfect accessory for walks in nice weather, and, what's more, there are 4 dresses that come in the set so you can mix and match outfits. All four styles are pink, in different shades of the color, with striped or polka dot skirts, with cute ruffles on sleeve holes – and each has a different print on the back: I'm sassy like my mommy, OMG I'm too cute, Mommy's little angel, and Mommy's little love. The dresses come in medium or small, and suit small breed or toy breed dogs. Machine-washable and soft on the skin, these girly dresses will make your pet the star of the dog park!
10. Honorable Mention: FLAdorepet Dog Sweater Dress
And now, something a little bit different – a dress your pet can wear on chilly autumn days and stay both perfectly toasty and stylish to boot! Made from super soft yarn and woolen plaid fabric, this preppy dress will make sure that your pet is snug yet comfy on walks in colder weather. The top part is made in a vintage cable style with a stylish ribbed V-neck, and the attached skirt is a plaid-print fabric made of soft, warm wool. The dress is machine washable and easy to put on – stylish and practical both! There are four styles to choose from: grey, red, pink, and yellow. Designed for petite pooches, this dress comes in sizes from X-small and X-large, all of which suit small breed dogs.
What to look for in dog dresses
You might think that the only thing you need to look for in dog dresses is the wow factor- but that's far from the truth. Even though most dog dresses are inexpensive that doesn't mean you should waste your money on dog clothes that will rip the first time your pet wears them. It's imperative to pick clothes that your pet will feel comfortable in: this means no cheap plastic materials that could lead to overheating, no beads or easily ripped accessories that could be a choking and GI blockage hazard, no complex closures, etc. The trick is finding something that will suit both your pet and your own preferences when it comes to budget and style. Here are some of the most important features to pay attention to when choosing dog dresses:
Materials
As we've already mentioned, the first thing to notice when buying dog dresses is the fabric. More often than not, dog outfits look cute in pictures but are made from cheap, plastic materials that make them look awful in real life- and not to mention extremely uncomfortable to wear. These fabrics are a poor choice as they can be itchy and cause overheating- so always go for natural materials and blends that are tried and true. Cotton is the most common budget-friendly option that's also great for dogs- so it goes at the top of our list of best materials for dog clothes. Other suitable alternatives are jersey fabric, viscose, and similar.
Size
If you think that only toy breeds can pull off wearing cute outfits- you're sorely mistaken. Every pooch from Yorkie to German Shepherd can look adorable in the right outfit- so there are sizes available for almost every dog breed out there. This means that you have to double-check the sizing info to make sure you're getting the proper fit: measure your pet according to the manufacturer's instructions to get the right dimensions.
Closures
You want your pet's clothes to be easy to put on, especially if they're fussy about dressing up to begin with. Luckily, most dog dresses are simple when it comes to their closures- it's either velcro or pull-on design. Similarly, if you plan on walking your pooch on a leash while they are all gussied up, be sure to check if the dress you have your eye on has appropriate leash access openings.
Style
Last but not the least important thing on our list is the style of the dress. After all, you're buying your pet a dress because you want them to look super cute for a special occasion- this means that design will play an important role. Luckily for all pet parents, there are plenty of adorable options to choose from. Whether you want something girly or dainty, a fun and sassy outfit, or maybe something to make your furry bestie properly dressed for your wedding or another important event, you'll have no problem finding what you're looking for.
Tips on how to get your pet to wear clothes
To no one's surprise, there are dogs that are not that enthusiastic about being dressed up. Whether it's a specific dislike of clothes in particular or a general distrust of new experiences, your pooch might be among those that do their best to avoid wearing cute outfits- and it trying to coax them into doing so might feel like you're mistreating them. However, that doesn't have to be the case! If your pet is not a fan of wearing clothes, you can change that without having to be pushy or try to make them do something they don't want to. The secret? Positive reinforcement methods.
If you're an experienced pet parent, you probably already know all about the merits of using rewards to encourage certain behaviors. But if you haven't had a chance (or reason) to methodically use this type of training to teach your pooch something new, you'll be pleasantly surprised how efficient the process is- and how great it feels for your pet, too. In a nutshell- the goal is to use praise or treats (or the combination of two) to reward your dog when he does something you want him to do. And when they don't, you don't punish them- you just withhold the reward. Of course, it doesn't take long for a doggo to put two and two together when something they covet is involved in the process.
When it comes to using positive reinforcement to train a dog to wear clothes, the process is as follows. First, let your pooch sniff the dress before trying to dress them- and cheer them on as they are checking the dress out. Then, gently and patiently start putting the dress on, all the while excitedly encouraging your pet. The fact that you're so happy about this strange new thing will make it easier to accept it! Be sure not to be pushy or harsh when you're trying to dress your dog as it will be counterproductive. Once they are dressed, reward them with their favorite treat- or a few. If they try to wiggle out of the clothes, redirect their attention with treats and praise. Repeat as needed- sometimes, you'll have to take baby steps for the process to truly work.
And a pro tip for the end: choose something comfy and pleasant. Don't go overboard from the start. A looser fit and something lightweight is the way to go while your dog is still getting used to wearing dresses. If you choose right, they won't even feel like they're wearing clothes to begin with!
Do dogs like dresses?
Dogs aren't too crazy about wearing clothes, and you've probably realized that the first time you've dressed them up. Some dogs are really uncomfortable with wearing dresses, and you shouldn't force them to do so, even if you think they look really cute. If, however, your pooch is indifferent or doesn't seem to particularly mind you putting on clothes on them, you can coax them a bit with treats and praise to help them associate dresses with a positive feeling and even start liking dressing up.
Is it cruel to dress up dogs?
Dresses are not painful or restrictive, but if your dog is scared of outfits or strongly dislikes wearing clothes in general, it could be cruel forcing them to wear a dress. Don't yell, punish or try to make your dog wear a dress if they are not up for it. In case they don't mind wearing clothes for short periods of time, dressing up isn't cruel, but if that is not the situation, it's best to skip on the dresses, costumes, and such so your pet feels comfy.
Can dogs wear clothes to sleep?
Dogs's shouldn't be wearing any clothes while they sleep if it's something that is in any way restrictive and could make them uncomfortable, but if it's a soft, warm outfit that could keep them snug and toasty in the winter, there shouldn't be any issue if they take a nap while still dressed. But that's only true if your pet doesn't mind being dressed – if they are anxious or stressed when dressed up, it's best to take their clothes off as soon as possible. And if it's already warm in your home, sleeping in clothes could overheat your dog, so undress them when you come back from the walk – no need to keep that jacket on when it's already warm inside!
Additional resources:
We are committed to finding, researching, and recommending the best products. We earn commissions from purchases you make using the retail links in our product reviews. Learn more about how this works.

Angela Vuckovic
A proud mama to seven dogs and ten cats, Angela spends her days writing for her fellow pet parents and pampering her furballs, all of whom are rescues. When she's not gushing over her adorable cats or playing with her dogs, she can be found curled up with a good fantasy book.
More by Angela Vuckovic
Published September 9th, 2021 12:00 AM