99 Views
December 6th, 2021 12:00 AM
We're committed to finding, researching, and recommending the best products. We earn commissions from purchases you make using links in our articles. Learn more here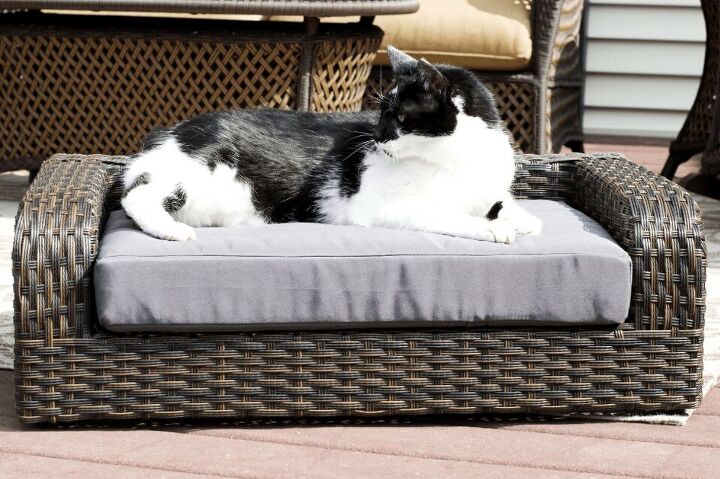 When it comes to giving your cat her own spot to sleep in, you have a few options, from regular plush beds and heated beds to hammocks, covered beds, and little hideaways with cushions inside them. But did you know that you could even buy little sofas that are made for cats? And you can find a wide range of sizes and styles, including those that work well in the great outdoors if your cat likes to spend time with you in the backyard?
Cat sofas are really cute, and the right one can be fun for your furry companion, who is sure to love jumping onto it and lounging for hours. That's why we've compiled a short guide below that will walk you through some of the features to look for, along with a few of our recommendations that we think are worth checking out when you're ready to shop for your pampered feline.
Should You Get Your Cat a Sofa Designed for Pets?
Even if your kitty likes to spend a lot of time on your bed or couch, she might love having her own little sofa to call her own. The right cushioned sofa will be soft and comfortable, and it will be just the right size to make her feel safe and secure when relaxing and napping.
Giving your kitty various places to lounge and sleep is a good idea because she might become bored with the same-old pet bed. By mixing things up and giving her access to trees, window perches, wall perches, sofas, etc., you can keep your furry friend happy because her environment will have something new and exciting to try. It's all about environmental enrichment.
Plus, by keeping your pet's sofa in a place that's easy to access, she can go to it whenever she wants. And if she's getting older and doesn't like jumping as much, keeping a plush sofa on the floor for her may also be helpful.
Many cat owners, however, simply want to spoil their fur babies, and this is where a fun little sofa can be a nice addition to the rest of your kitty's furniture, beds, and toys. Again, you can use it to further enrich your cat's environment by giving her something new to use, and the sofa might become her favorite warm place to sleep.
What to Look for in a Cat Sofa
As you shop for a cat sofa, you'll quickly realize that there are various styles and colors to choose from, so you can find the sofa that will match the rest of your décor best. But think about what your kitty would prefer, too.
For example, would she prefer a sofa that has higher sides for extra support while she rests? Do you think she'd like a chaise style or a traditional sofa style? Do you want to give her a sofa that features an orthopedic cushion to make her feel as comfortable as possible, or is she the type of cat that will lie down on just about any surface?
Another thing to think about is the size of the sofa, as you want it to fit whatever space you plan on putting it in. Also, you want it to be large enough that your cat will comfortably fit on it, and be able to turn around on it to settle in. At the same time, it should also be small enough to give your pet a sense of security.
Finally, you want the material that the sofa is made of to be easy to clean. From removing cat hair that has accumulated on it over time, to cleaning up accidents, you definitely want it to be hassle-free.
Cat Sofas That We Recommend
If you're ready to pamper your kitty, check out some of the adorable cat sofas we've listed below, in no particular order. These are definitely worth looking at when you're searching for a little sofa that your cat can call her own.
1. Editor's Choice: Enchanted Home Ultra Plush Pet Sofa
The Enchanted Home Ultra Plush is designed for both cats and dogs up to 10 lbs. It is a smaller size sofa compared to some of the other options on the market, measuring 27.5" x 16" x 12". This compact size makes it easy to fit into nearly any room, including those where space may be more difficult to come by. The faux leather sofa with decorative leather piping comes together to create a fashionable piece that will complement most spaces beautifully.
The 2" legs lift the bed up off the floor while vibration-absorbing foot pads ensure that your cat has a comfortable and uninterrupted sleep. The cushion cover is easily removed and washable, making it easier than ever to keep it looking clean and presentable. The two arms of the sofa are positioned perfectly for pets that like to lean while they are sleeping. It also includes a storage pocket on the back where you can keep your cat's toys tucked away and organized.
2. Runner Up: Enchanted Home Pet Snuggle Bed
Another great option from Enchanted Home Pet, this snuggle bed is the perfect size for cats and small dogs up to 10 lbs. This adorable little bed is even smaller than the first option, measuring just 17" x 11" x 9". This makes it the perfect option for condos, apartments, and other small living situations where space is limited. The rounded design of the bed is perfect for those cats that enjoy curling up when they sleep. The 2" feet provide draft-free sleeping while the vibration-absorbing foot pads ensure that your cat isn't bothered by any movement in the area.
The beautifully textured faux leather basketweave exterior makes this bed a beautiful addition to any home while the soft ultra-plush offers a comfortable place for your cat to nap. Built with high-quality furniture-grade construction, this bed will stand up to the wear and tear of day-to-day use, making it a worthwhile investment. The cushion cover is removable and machine washable. And, to match everyone's style, this cat sofa comes in brown or black color.
3. Customer Choice: Enchanted Home Pet Ultra-Plush Snuggle Sofa Cat & Dog Bed w/Removable Cover
Enchanted Home Pet also offers this Ultra-Plush Snuggle Sofa for dogs and cats. Available in black, dark grey, or pink, this small pet sofa measures 26.75" x 16" x 14.75", and it can hold up to 10 pounds.
This is an upholstered cat sofa that can easily match the rest of your décor with its sophisticated design. And your cat will love it because it's fitted with a lofty, soft cushion that makes it the perfect spot for long naps. The plush material makes it really soft, the construction is furniture-grade, the storage pocket is convenient, and the 2" legs ensure the bed is elevated a bit off the floor.
When you need to clean this cat sofa, the surfaces can be spot cleaned, and the cushion cover is removable and machine washable.
4. Best Traditional: Club Nine Pets Traditional Chair Sofa Cat & Dog Bed
The Club Nine Pets Traditional Chair Sofa Cat and Dog Bed is available in multiple sizes, so you can select the one that would work best for your family of pets. If you want to get one for your cat, the small size might be enough, as it measures 27.5" x 19" x 16" and can hold up to 15 pound. However, if you want to go with a larger option, you can select the medium, which is 36" x 22" x 16" and has a maximum weight capacity of 20 pounds.
This product features high-density foam cushioning, along with fiber fill, so it is designed to be really comfortable for your felines. The pet-friendly upholstery is also ultra-soft, so it won't irritate your kitty's paws. Plus, the legs, which measure 2" and feature anti-slip pads, ensure the bed is kept off the floor, while still being easy enough for your kitty to climb up into it.
Available in a charcoal color, this little chair for your kitty is easy to match to the rest of your décor. And, when you need to clean this sofa, you can simply remove the cushions and toss them into your washing machine.
5. Best Modern: Club Nine Pets Modern Sofa Cat & Dog Bed
Club Nine Pets also offers this Modern Sofa Cat and Dog Bed, which boasts high-density foam cushioning, ultra-soft and cozy exterior upholstery fabric, and hollow siliconized conjugate virgin polyester fiber fill for extra comfort.
The cushions on this pet sofa are also removable and machine washable for easy cleaning whenever necessary. And the 2" legs that feature anti-slip pads to help the sofa stay in place are also a nice addition, as they keep the bed low enough to the ground for senior kitties, while still providing some amount of elevation off the floor. Plus, the pads also help protect your floors as well.
What differentiates this option from the Club Nine Pets sofa that is discussed above is its design. Rather than looking like a chair, this one is made to look like a chaise. And it is available in three sizes: small, medium, and large. The small option measures 20" x 17" x 16", while the medium measures 28" x 20" x 16', so you can select the one that you think your cat(s) would be most comfortable in. Of course, if you have a big kitty, you can opt for the largest size which measures 36" x 24" x 16".
6. Best Settee: Club Nine Pets Traditional Settee Sofa Cat & Dog Bed
Yet another option from Club Nine Pets is their Traditional Settee Sofa Cat and Dog Bed, which features hollow siliconized conjugate virgin polyester fiber fill, high-density foam, and an exterior that's soft and cozy. And, of course, the cushions are removable and machine washable too. Plus, it has the 2" legs and anti-slip pads that help keep the sofa off the floor and in place.
This cute little sofa is easy to access from the front and back, but it does have two high sides that your cat can use to feel secure and comfortable. Available in two sizes, small and medium, you can choose the one that will give your kitty the space that she needs to feel at ease. Small measures 28" x 17" x 11" and can hold up to 15 pounds, while the medium option measures 36" x 20" x 12" and holds up to 20 pounds.
7. Best Orthopedic: FurHaven Quilted Orthopedic Bolster Cat & Dog Bed w/ Removable Cover
The FurHaven Quilted Orthopedic Bolster Bed looks like a mini sofa for your furry companion. It can be the perfect place for a nap, or simply for lounging, and it is designed to provide your cat with maximum comfort.
This product features a surface that is quilted and soft, but what really makes it super comfortable is its medical-grade, orthopedic foam base. Plus, the foam ensures good airflow while cradling your pet's body and relieving pressure on the joints. And this sofa is also made in a way that makes it easy for senior kitties to make their way into it, as it doesn't have any legs, so it will sit right on the floor.
In addition to all of those great features, this sofa also boasts three side bolsters that are covered in suede, so your kitty can rest her head comfortably, while also getting comforting support for her back. And, when you need to clean this sofa, you can remove the cover, which is machine washable.
This pet sofa is available in several sizes, including small, medium, large, jumbo, and jumbo plus, so you can find the one that suits your kitties best. The small, for example, can hold pets weighing up 20 pounds, and it measures 20" x 15" x 5.5". If you have a large cat, or you want a bed that will be big enough to support more than one kitty, you might want to get a larger size.
8. Best Luxe: Moots Cleopatra Chaise Lounge Sofa Cat & Dog Bed w/Removable Cover
Searching for a pet sofa that features a really unique and interesting design? Then check out the Moots Cleopatra Chaise Lounge Sofa Cat and Dog Bed, which is available in size medium, measuring 28" x 18" x 18". Plus, it's available in burgundy red or chocolate brown, so you can select the one that will match the rest of your interior décor best.
If you treat your pet like royalty, why not give her a padded chaise lounge that will make her feel like she's #1? This sofa lounge boasts an attractive design that makes it look luxurious and elegant, but it also provides loads of comfort, thanks to the orthopedic memory foam that helps relieve pressure. Plus, it has a sturdy wood frame and heavy-duty zipper. And, when you need to clean it, you can spot clean the chair and machine wash the cushion.
9. Best Scratcher: PrimePets Cat Scratcher Lounge Sofa
Who said that you need a fancy sofa to keep your pampered feline happy? In fact, we all know the golden rule with cats- cardboard is the king, even when it's not in the form of a delivery box. This is why PrimePets Cat Scratcher Lounge Sofa is such a hit with kitties: not only that it is super comfy to lounge on after a long day of chasing after feather toys and munching on kibble, but it is also made from corrugated cardboard so it doubles as a scratching post! And it's no secret that cats loooove sharpening their claws on the sofa- only this time, they won't be ruining yours but theirs. Pawrents aren't immune to this nifty cat sofa design, either: it is awarded the Amazon's Choice tag, which speaks a lot about its popularity with cat owners.
Non-toxic and eco-friendly, this cat scratcher sofa is a budget-friendly option to get your kitty both a place where she can snooze and something she can use to keep her nails filed down. Despite the fact that it is made from high-density corrugated cardboard, this lounger sofa doesn't look drab: the vibrant leopard print on the backrest and the front add a pop of print and color.
10. Best Outdoor: Iconic Pet Rattan Outdoor Pet Bed
For a great pet sofa option in your outdoor living space, pick up the Iconic Pet Rattan Rectangular Outdoor Pet Bed. It is a perfect cat sofa for your patio, deck, lawn, or garden. Of course, you can also use it inside but with the classic rattan look it will fit in perfectly with your family's outdoor furniture. It is slightly elevated, and its frame is made of powder coated metal, hand woven by pliable rattan palm stems. Each string of the rattan is coated to minimize corrosion and flaking due to outdoor use. The pet sofa bed comes in a beautiful espresso color and three sizes – small, medium, and large. The small size 25 x 20 x 10 inches is the perfect size for your cat. Of course if you have a lot of cats feel free to scale up! The couch comes with a cream-colored cushion that is water resistant and has a zipper opening so you can take the cover off easily and just pop it in your washing machine to keep it clean.
Your Cat's Sure to Love Having Her Own Sofa!
Now that you know more about pet sofas, the reasons why your cat would like to have one, and the things to look for in a high-quality product, what are you waiting for? In addition to the options that we discussed above, there are plenty of other sofas that you can check out as well so you find the one that will be perfect for your furry companion.
How often should I clean my cat's sofa?
Chances are, your cat will be spending the better part of the day (and night) in their cozy new sofa, which means you should clean it regularly to avoid hair buildup, stains, and foul odors. Usually, most pet parents opt for a weekly cleaning on a regular basis, spot cleaning any stains and messes, removing hair, and vacuuming the sofa. You can, of course, do it more often, or every two weeks if your pet's not particularly messy – but be sure to pick up hair with a lint roller in between cleanings to make your job easier and your pet's sofa tidier.
Is a cat sofa better than a cat bed?
What does better mean for you? If better equals cheaper or machine washable, then a cat bed is better than a cat sofa. However, if you put a premium on style, then cat sofas take the win any day. As for your cat, there's no saying what they'll prefer more as it is very individual: if your kitty usually sleeps under the covers or seeks out enclosed spaces when they sleep, they might prefer a cave-like bed, but if they spend all their naps lounging on your sofa, it's highly likely they'll love having one their own size.
Additional resources:
We are committed to finding, researching, and recommending the best products. We earn commissions from purchases you make using the retail links in our product reviews. Learn more about how this works.

Lisa Selvaggio
Lisa Selvaggio is a freelance writer and editor, and our resident cats-pert, with certifications in pet nutrition and pet first aid. She enjoys producing content that helps people understand animals better so they can give their pets a safe and happy home.
More by Lisa Selvaggio
Published December 6th, 2021 12:00 AM